The Department of Education, Training & Disabilities at this year's Kids Day Out.
---

Wendy Ballard has over 25 years of experience working with a broad range of families including those that are vulnerable and marginalised in the Early Childhood and Community Services sectors having studied a Diploma of Community Development and Bachelor of Teaching/Bachelor of Social Science. Wendy has lived and worked on the Central Coast of NSW for over 35 years, while raising her family, which now includes many grandchildren. Wendy has facilitated the Schools as Community Centres at Blue Haven and Northlakes for the past 14 years and has a wealth of knowledge and understanding of the strengths and needs of individuals, minority groups, regional satellite suburb residents and those of the broader Central Coast community. During her career Wendy has developed strong relationships with a wide network of people and organisations across the Central Coast and beyond. These connections have led to many successful partnerships and ongoing multiagency collaborations, which serve parents and carers with young children. Wendy's collaborative approach leads to improved educational and personal outcomes for both adults and children, and a more supportive, cohesive community.
---

The role of the Family Referral Service is to assist vulnerable children, young people and families who do not meet the statutory threshold of "risk of significant harm" to access specific and appropriate support services in their local area. The intent is to prevent a difficult situation that a family, young person or child may be experiencing from escalating to a crisis requiring a statutory response from the child protection system. We have Child and Family Practitioners ready to engage with families and get them supported regarding any issue they may be experiencing (parenting issues, family breakdown, family violence, mental health, homelessness or health problems to name a few). The Family Referral Service on the Central Coast is run by the Benevolent Society. The Benevolent Society has been supporting people with disabilities, children, families, older Australians and carers since 1813 (as Australia's first charity). It is not-for-profit and non-religious. To access our service call our intake line on 1300 006 480. Our service is free and voluntary. On the day we have an intake worker, a child and family practitioner and our housing worker ready to chat and answer any questions and to play some games with the kids.
---

Complimentary spinal checks for children and parents, and general health advice. Facepainting for every child that gets checked.
---

READ Clinic is a large psychology Clinic located in Erina, with over 25 psychologists providing therapy and assessments for children, adolescents, adults and couples. Open 6 days a week, the READ Clinic is a calm, welcoming and safe space for you and your family.

---

The Triple P – Positive Parenting Program is one of the most effective evidence-based parenting programs in the world, backed up by more than 35 years of ongoing research. Triple P gives parents simple and practical strategies to help them build strong, healthy relationships, confidently manage their children's behavior and prevent problems developing. Triple P is used in more 30 countries and has been shown to work across cultures, socio-economic groups and in many different kinds of family structures. It aims to create supportive family environments, and to prevent, as well as treat, behavioural and emotional problems in children and teenagers.
---

Coastwide Child and Family Services is a not-for-profit providing early childhood education and care services and parenting programs for over 40 years. Qualified, experienced, and dedicated Family Day Care Educators, supported by Early Childhood professionals, provide flexible and affordable home-based education and care for families across the Central Coast, Hunter New England, North Coast and Western NSW regions. Come and have a chat or call our friendly team about our parenting support programs that improve the learning, development and wellbeing of children or you might be interested in how to become a childcare educator and open your own family day care business. We would love to hear from you! Coastwide: 1300coastwide or email admin@ccfdc.com.au
---

MoveAbout provides occupational therapy services to children. We have three clinics located in Bella Vista, Berkeley Vale and Warners Bay in New South Wales. We aim to help kids with a variety of needs, including (but not limited to):
Attention and concentration difficulties including ADHD/ADD.
Disorders of relating such as autism spectrum disorders.
Functional difficulties (e.g. feeding, toileting, dressing, shoe tying, bike riding).
Fine motor difficulties including limitations in motor planning, grasp and handwriting.
Gross motor difficulties including limitations in motor planning, coordination and sports related activities.
Sensory processing/sensory integration challenges including limitations in registering sensation, interpreting sensation, organising sensation, and being over-responsive or under-responsive to sensation.
Visual processing/visual perceptual challenges.
Learning disabilities.
Regulatory disorders including children with difficulties in sensory, behavioural and emotional regulation.
Issues related to behaviours seen as negative or inappropriate.
Visit us at www.moveabout.com.au to find out more.
---

Relationship services.
---

---
Catherine's the owner of Developing Dreams Early Learning Centres, two Exceeding preschools where culture is prioritised to drive success for children, families and staff. As a mum, an early childhood teacher and qualified life coach, Catherine founded the online membership EMPOWERED as a tool to support the mental and emotional wellbeing of mothers … and their children! Going from depressed teen mum to creating the life of her dreams, Catherine's an example of breaking through limiting beliefs and circumstances to create the life you dream of. Catherine's offerings have been seen in publications such as Families On The Coast and The Daily Positive, in her blog and in person at The Educators Big Day Out, Community & Business Women's Network and more. Stop by to say hello or ask a question – Catherine would love to meet you! Or you can subscribe to her weekly emails at www.developingdreams.com.au
---

Laura's Place - A caring, confidential, supportive and relaxed environment where families can seek support.
---

Does my child need speech therapy? Talk to us.
---

Rebecca Thompson (M Incl. Ed.) is a supportive and inspirational mentor who is the principal consultant of Stone & Sprocket an education consultancy business on the Central Coast of NSW, Australia. With a wealth of experience that spans across 22 years in a variety of; early childhood, early intervention, primary school and adult learning environments, Rebecca prides herself with a long standing commitment to advocacy on the right for every child to access high quality education. This commitment has seen her involved action research and improvement of quality education for children from disadvantaged backgrounds. More recently Rebecca works with schools and early education services in her local community to bring new light to children's behaviour and the way this is supported through inclusive practice. She is well known for her holistic, caring but technical approach in getting to the root of the problem. Rebecca developed an analogy on behaviour that is used widely across the country to train teams on building a climate of professionalism. This has also been adapted in to a parent version used to support families in their guidance techniques .
---

Wonderful Me exists to support children in the areas of social and emotional wellbeing. Each of our books, plush and kits have been created to help children grow a greater sense of self and develop a positive relationship with their emotions. Our range includes the award-winning WorryWoos which addresses seven different emotions/themes, and the ever-so-loving Hug, whose job is to help children know and love who they are. Whether in the home or learning environments, Our range includes resources for children from birth to pre-teen and can be used in the home or learning environments and/or professional settings.
---

Dee Balderston - certified provider in CPS on the Central Coast. I will share with families, the collaborative and proactive solutions (CPS) model, which is a compassionate approach to problem solving and supporting kids through challenging behaviours.
---

We are a non-profit community based educational service, providing quality care arrangements which are safe, educational, inclusive and affordable, to meet the needs of vulnerable and disadvantaged families and support them while in the workforce.
---

The beautiful people from Lifestart are coming to Central Coast Kids Day Out to share their extensive knowledge of the NDIS and their expertise with children and young people living with a disability.
---

Counselling and therapeutic support for all ages and stages, LGBTQ+ affirming support for LGBTQ+, questioning and loved ones, and remote/rural services. Mobile supports within Lake Macquarie and Central Coast, we'll come you. Flexibility to choose video call or face-to-face appointments. Whole family and community approach.
---

We are a registered charity that operates a Specialist Resource and Community Centre on the Central Coast. Our aim is to support children and teens living and learning with dyslexia, dysgraphia and dyscalculia. We provide educational assessments, therapies, workshops and teacher training. We will be providing information on our services and programs and celebrating those who credit their inventions, art and skills to their dyslexia. We will provide prizes for trivia questions and guessing games.
---
Catherine Schausser, Mentor Coach
Early Childhood Specialist
---
Aspect
Early Childhood Specialist
---
Uniting Care Burnside
Early Childhood Specialist
---
Area Health
Early Childhood Specialist
---
P&C Association
Early Childhood Specialist
---
Sonja Camerilli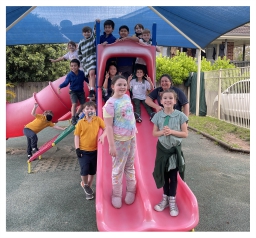 Sonja has had an incredible journey with working with children. She started working as a volunteer, then at Holroyd Council and following this, Sonja with her sister and father, happily owned and successfully directed Central Gardens Childcare till October 2022.
Sonja will be situated in Nursery Rhyme Land all day.
---